Rasmus Lindh Caps Off 2018 Season With Pro Mazda Debut at Chris Griffis Open Test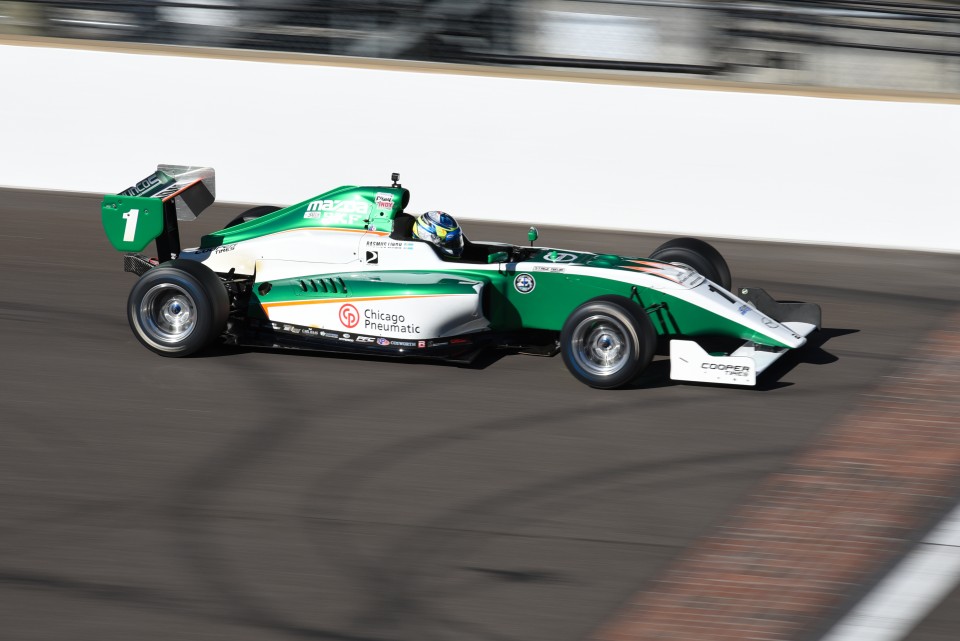 INDIANAPOLIS, IN. (September 25, 2018) – Three weeks after concluding his rookie Cooper Tires USF2000 Powered by Mazda season, Swedish phenom Rasmus Lindh has already sampled the next rung on the Road to Indy ladder. This past weekend, the 17-year old tested a Pro Mazda car for Juncos Racing at the Chris Griffis Open Test at the famed Indianapolis Motor Speedway.
"I'm very happy with my first year driving open-wheel cars," commented the teenager who finished fifth in the World Karting Championship last year and ended up Vice-Champion as a rookie in USF2000 this year. "It was a steep learning curve for sure, but towards the end of the year we really found the speed and we were always contending for the top step of the podium. The USF2000 car fit me very well so I was able to learn quite quickly."
With three pole positions and five podiums in his rookie USF2000 effort, Lindh is already looking towards the 2019 season, eyeing up the Pro Mazda Championship. In his first test in a Pro Mazda car, Lindh topped one session and ended all sessions at the Chris Griffis Open Test inside the top three.
"I learned a lot with the additional downforce, bigger tires and more horsepower," said Lindh. "I kept improving and made a big leap for the second day. I really like the Pro Mazda car and hope to be racing on the next step of the Road to Indy next year. I really like how the ladder system works here so I am excited for next year."
While Road to Indy teams would have only taken notice of Lindh this year, Formula 1, IndyCar and Le Mans legend Stefan Johansson spotted the talented Swede many years ago.
"I've been following Rasmus ever since he beat me in a video game when he was seven years old," said Johansson, who also manages five-time IndyCar Champion, Scott Dixon. "He's one of the few drivers that has come through with huge talent and he's done a fantastic job already. He's got a very calm and calculating demeanor and I view him as a protege more than anything. He's well prepared for what comes next."
Off-season preparations will now continue for Lindh as he sets his sights on the 2019 Pro Mazda Championship. Announcements regarding exact plans will follow.
About Rasmus Lindh
Rasmus Lindh burst onto the American racing scene in 2018 with an impressive European karting resume. From 2010 through 2017, the Swede captured two National championships, won the WSK Series in Mini 60 and finished fifth in the World OK Senior Championship. In 2018, the teenager made the move to North America and his first season of open-wheel racing. In his debut USF2000 season, the youngster went on to score three pole positions and five podiums en route to second place in the championship. For 2019, the 17-year old aims to move up to the next rung on the Road to Indy ladder, Pro Mazda.